Is it necessary at all a learning plan? Makes a learning plan no longer work, than good? Not if you do it right!
Six criteria for the perfect learning plan
Never again a guilty conscience!
Many are disappointed by the Plan. On average, we provide only about half of what we have planned. We are optimistic and plan a no reserves. Then we feel guilty because we chase our plans. Here, a learning plan is nothing, what will happen necessarily like that. A learning plan is only a plan! While we are working on its implementation, new information and tasks are added. Priorities must be set again.Therefore, a good plan meets six criteria: 
Overview. All to-do must be seen at a glance.
Milestones. The motivation Research shows: Short-term goals inspire more as far distant. If tasks are unstructured or too large, paralyzes.
Time limit. The work expands so long as time is available. Did you two months to a term paper, you need two months. Did you just four weeks, you can do it in this time. Thus, each intermediate step is assigned a time container.
Flexibility. Plans are to reduce uncertainty by pre-structuring of the future. This depends on many factors, so plan amendments must be possible.
Motivational. Intermediate steps, time limits and flexibility are important foundations for motivation. What can you install in addition, brings the fun? How about learning groups, creative work with mind maps, posters or learning reps in a beautiful environment?
Control. Your learning plan should allow easy inspection, because feedback is one of the main motivating factors.
---
Learning Plan with progress monitoring
The Progress-o-Meter: Overview true motivation 
I have developed a system that well meets these criteria and for all types of self-determined project tasks (learning, homework, graduation, etc.) is suitable. The "Progress-o-Meter" is a learning plan with built-progress monitoring: As with the speedometer can be read at any time the rate of progress here. You see immediately where you stand. The Progress-o-meter is so detailed that you can work with it every day, but nevertheless so compact that it fits on one page. Curious?
Determine the topics. First Get an overview of the main areas that there is to learn.
Determine the sub-themes. The major content blocks have to be so far broken that they can be dealt with in working units (one hour up to one day).
Define the operations. In the column now come the individual process steps.Consider what you have to do, so that the knowledge afterwards really sits. We will see that for a versatile processing is conducive.
Determine time. The aim of this first plan is at all important topics to get through once without a subject to learn at the expense of another. So you need a rule of thumb, for. Example, a unit of work (about 90 minutes) per box. Thus you have already a great to-do list.
Prioritize. You then get a matrix with content and compact process steps.Suddenly the complex subject matter is divided into small drawers that you gradually work off and can check off. Go this learning plan is still needed and prioritize: What topics and processes can be summarized again and completed in a lesson?
Reward. Locate a control mechanism: If you have processed a field, you can tick it, strikethrough, percentages add (How much did you already understood), Smileys / Frownies (How well does it fit theme yet?), Asterisk (* = okay, ** = good, *** = very good) or give school grades. It is important that you continue to draw once. The quality will improve with the following steps. The beauty of it: You are flexible. You can now in the learning plan (study the subject) horizontally or vertically to go (start another topic). That's a bit like painting by numbers and playfully combines a motivational aspect with visibility and control.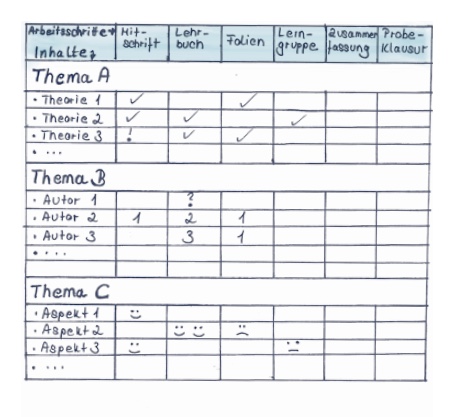 Example of the learning plan Progress-o-Meter
Example of a learning plan from the anatomy exam
Theme : For the anatomy exam of medical student Sophie were the three blocks "bone", "chord", "muscles". Each of these issues was equally important in this case – the learning curve needed to be distributed according to uniform.
Subtopics : Usually there are several ways to break down. Sophie decided on the classification by body parts (arm, leg, back, etc.) These subtopics she has listed on the left in the table for each block.
Steps : Sophie has now decided for six process steps: pass notes, then worked up the slides and incorporate into the transcript. This is followed by: read textbook, by talking facts and exam simulation with the study group. Finally, they will still create a Survival summary for each subtopic
Prioritize : Some topics can still be summed up by this first, simplified listing. Sophie wanted to z. B. always arm and leg and hand and foot learn together, because these sub-themes had many similarities. In addition to topics they wanted to edit the transcripts and slides at once. For other things it might is already clear that they are particularly important and time-consuming that it features already adjusted first.
In several rounds to the target
So you work with the learning plan "Progress-o-Meter"
Even if you have a lot of time, not make the mistake, extensively to learn a single subject or topic, and only then the next. Since guarantees what comes in between or you verzettelst you. Work better in rounds. For example, in three weeks: one week basis for all threads, one week recess all subjects, a week repetition. This prevents panic, because you can do a quick foundation in every subject area. The recognition of connections is easier and increasing efficiency. I call this "hierarchical work" because it starts with basic things and initially worked across this on all subjects. If you still have time, it goes into recess. Go after the self-imposed time per course unit to the next topic on – even if you have not done anything! You'll soon realize why…
Search at the beginning and after intersections. Fasse these issues together – even on subjects away. Suppose you have a basic course (z. B. Physics) and learn at the same time for one special (quantum mechanics). Start with learning where to basic and advanced course overlap. This saves time and you will learn more intense because you light the issues from two directions.
"The strategy and draw up the learning plan, seemed only more time consuming than a profit. Then I noticed, however, that the creation is quite simple and has saved me in the end time and especially nervous. "
Alexandra
Note : Other examples of Progress-o-meter for assignments and final work, check the time management & motivation book "Golden Rules"
Enough is enough
When I learned enough?
The learning plan "Progress-o-Meter" answered a key question: How do I know that I have learned enough? Eben when you write in each box a smiley or hooks, a high percentage, many asterisk good grades etc. can! Here is a modification of Progress-o-meter, which quite clearly shows that: A Japanese Studies – student preparing for their exam. They had to work even facts about specific topics. It should be interrogated ten questions, each a cultural aspect. There were 80 points, ie eight points per question. As the student comes to their eight points per question? This was initially totally mysterious to them. We designed a learning pattern per thread, for example, Shintoism.:
Definition : What is it? (1 point)
Year figures of the period? (1-2 points)
In that era defers the one? Why? (2 points)
What are the 5-10 Characteristics of a period? (5-10 points)
Are there interesting additional information , eg. As famous representatives, political characteristics? (1-3 points)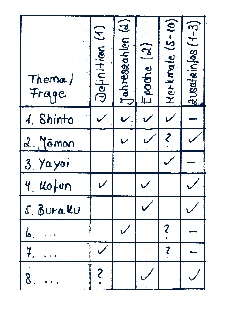 We listed the topics on the left. Up now focused on the five content categories. Thus they had a framework to classify the information. That gave her security and she could better judge when she had learned of an issue enough: namely, if and only if they had worked out all the points of these five categories. Easy, right? Less uncertainty, greater chance of success – and all with a simple overview.
---
I wish you for your learning plan and your tests of luck!